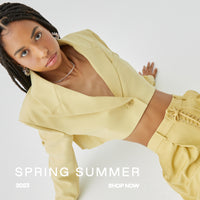 BRAND PHILOSOPHY
Every journey begins with a dream.

The ISABELLE BLANCHE PARIS dream started from France and then landed in Italy, collecting pieces and creating its own identity.

The style comes to life in Florence, inhales its creativity in the cultural heart of international fashion in Milan, but keeps its roots firmly in Paris, keeping in its DNA the essential impersonal French minimalism.

The Logo - clean, sharp, modern - introduces and enhances the essential and urban spirit of Isabelle Blanche Paris.

Paris, a world that in its modern exclusivity encloses the chic & cool soul of the dynamic, colourful, multicultural metropolis.

Unpredictable, expressive, creative, like all women, also Isabelle Blanche Paris makes her human imperfections the distinctive element of her exclusivity and singularity.

The conscious sensuality, made up of overlapping games, from the "see - can't see", comes by itself

Just like on a journey nothing is static, unchanged over time and linked to stereotypes, in Isabelle Blanche Paris everything is remodeled and mixed, because it's the dream that continues to show the way.

The journey continues without stopping.
Shop